The Best Security Packages for Windows 10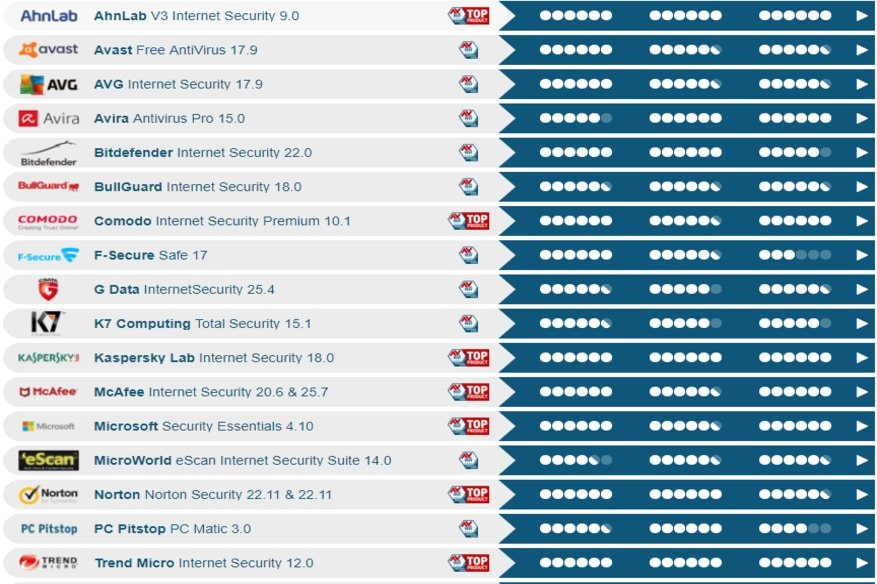 The lab at AV-TEST examined 20 Internet security suites. The agenda of the test involved the categories of protection, performance and the effect on usability. There were seven packages based on which they received special recognition.
Comodo was one of the many products that were put under evaluation like; AhnLab, Avast, AVG, Avira, Bitdefender, BullGuard, ESET, F-Secure, G Data, K7 Computing, Kaspersky Lab,  Microsoft, McAfee, Microworld, PC Pitstop, Panda Security, Symantec, VIPRE Security, Trend Micro. As said here again the product was evaluated in the categories of protection, performance, and usability, and was able to achieve the maximum of 6 points in each category.
Among all, a total of seven of the protection packages received the lab's TOP PRODUCT designation, as they achieved the maximum score of 18 or 17.5 points. They are from Kaspersky Lab, McAfee and VIPRE Security with 18 points each, along with AhnLab, Avira, Bitdefender and Trend Micro with 17.5 points each. But the following midfield of an additional 7 products also received 16 to 17 points out of a possible 18.
7 protection packages with absolutely error-free detection
The object of the test was to distinguish and remove almost 11,000 Trojans, worms and so forth. The lab partitions the primary segment of this test classification into reality test, requiring detection of new malware just a couple of hours old. In the second segment with the AV-TEST reference set, the errand is to fight off malware tests that are as of now known and a most extreme of two weeks old.
The following 7 products detected all threats without exception in both test series: AhnLab, Bitdefender, Comodo, F-Secure, McAfee, Symantec and Trend Micro. The products from Avast, AVG and Panda Security also remained error-free in the real-world test, yet overlooked individual threats in the test involving the reference set at one month, achieving 99.9 and 99.8 percent respectively. The security packages from Avast and Panda Security can be used free of charge by private users.
In case of Windows suddenly becomes slower
The test of the system load quickly shows a decline in performance in everyday use if a security solution is used. For this test, the system load for the following operations was measured on two reference systems: copying files, visiting websites, performing downloads, launching and installing programs. The reference systems consist of one standard and one high-end PC. The overall scores were then averaged for comparison.
A noticeably higher system load was generated by the packages from Comodo, K7 Computing, ESET and Panda Security. They received a mere 4.5 to 3.5 points.