Data Loss Prevention for Social Media Channels in Enterprises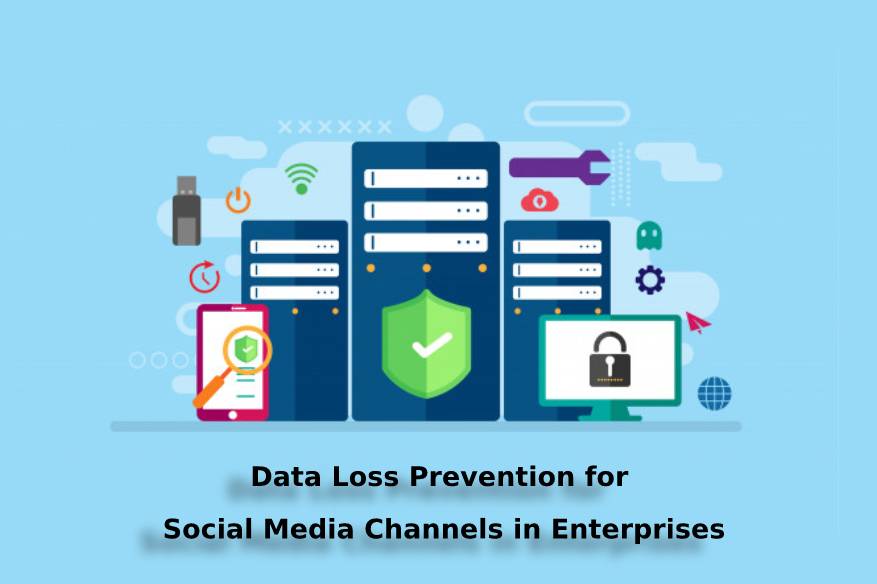 Data Loss Prevention is of crucial importance for social media channels in all enterprises today.
Social media channels, as we all know, play a key role in elevating businesses to great heights today. It's not at all wise to avoid social media or underestimate the importance of social media and other digital channels- they are needed today at all levels of business operations. You'd have to rely on them for marketing-related activities, for internal collaboration, for public relations and customer support and for a range of other activities. But, never forget that there is another side of the picture as well- the security aspect!
The social media channels provide cybercriminals with a very potential and enormous attack surface, which they could try to breach so as to access enterprise networks and steal business data and sensitive customer data. It's hence that data loss prevention becomes crucial for social media channels in all modern enterprises. Let's examine various aspects related to this…
Businesses often tend to overlook the importance of DLP for social media
Though businesses give utmost importance to DLP (Data Loss Prevention) for all other things, they often tend to overlook the importance of DLP for social media channels. They often forget that social media happens to be one of the most publicly visible faces of any business today and hence cybercriminals would definitely target social media channels. This must change, enterprises must ensure that their social media channels too are covered when they plan their DLP strategies. They must customize their DLP rules to include social media channels too.
Targeted phishing attacks pose a great threat
Since social media channels are widely used in the enterprise world today, cybercriminals tend to plan targeted phishing attacks against social media. Through the social media channels, most of which are overlooked by many enterprises today as regards the security aspect, the hackers try to send links and files which would be containing malicious codes, and which would help them gain unauthorized access into the enterprise networks. Similarly, spear phishing attempts which involve attempts to dupe people within an enterprise into sharing confidential information (personal data as well as business data) are also carried out by cybercriminals over the social media. Thus, it's highly important that businesses do all that's needed to secure the social media and at the same time take steps to educate their employees on how to prevent phishing attacks. This helps greatly in ensuring data loss prevention.
Tackling insider threats is also important
There are always insider threats that tend to thwart the security of any business organization today. Such threats, which happen from within the organization could prove to be a real headache when employees have full and free access to social media channels. Here, it's not just the security policies that are needed, it's proper and continual security awareness training plus automatic detection/prevention techniques that need to be there to combat such issues. Otherwise malicious or dissatisfied employees could exchange confidential information to outsiders and cybercriminals through unsecured social media channels.
Staying protected against unknown threats is important
Protecting an enterprise against unknown threats is important. Comprehensive data security is not possible by just using traditional signature-based threat detection methods. DLP, for any enterprise today, must include capturing and monitoring all content, behavioral analysis, leveraging of AI and machine learning for data classification and risk management and such other unconventional methods and techniques that could prevent unknown threats from targeting social media channels.
Data sovereignty is a big issue for enterprises
Since we are discussing DLP and social media channels, it's to be specially mentioned that data sovereignty is indeed a big issue for all enterprises today. Something that's posted on the social media, either by insiders or by customers, could spread faster than most people imagine and within minutes any data thus shared or spread would go out of the control of the enterprise. This is an issue that poses a big threat to the reputation as well as data security of any enterprise today.
Prompt alerts and speedy remediation action are vital
DLP solutions should be constantly monitoring all communication and the alerts, whenever there is a violation of security policies, should be prompt. Similarly, whenever there is an issue of a data loss relating to the social media channels, the remediation should be speedy. These things are vital for the overall security and growth of any enterprise today. Quarantining of infected files and documents, takedowns of malicious posts/images on the social media, suspicion of accounts if needed, etc should be prompt and processes, as far as possible, need to be automated as well.
Also, Read:
Seven Steps to Data Loss Prevention
Key Factors for Data – Centric Data Protection